Indulge yourself in luxurious tropical hospitality at Céu Ceylon
Be welcomed into glorious local hospitality and choose from 5 tastefully designed rooms that offer garden and beach views. Each room is decorated to reflect the beautiful colors of the ocean reflected by the soft rays of the southern sun; turquoise, green, blue and the sandy beaches – all adding hues of romance and elegance to your tropical getaway. All our rooms come furnished with a closet, desk, couch and fitted showers. Our honeymoon bedroom is the largest, accommodating a classic four poster bed and jacuzzi. Additionally, every room offers enough privacy to make your vacation a truly relaxing one.
The villa boasts beautiful views of a private and secluded beach and a lagoon; both offering spectacular views over the rising and setting sun. The villa also offers a special dining experience, where guests can choose their own seafood at the seafood market that is yet again a short walk on foot. The in-house chef along with the rest of the kitchen staff are very attentive to your preferences. Our staff is always at your disposal, and would be more than willing to arrange a candle-lit dinner by the beach paired with some great wine and fresh seafood, perhaps to mark the end of a relaxing and romantic vacation.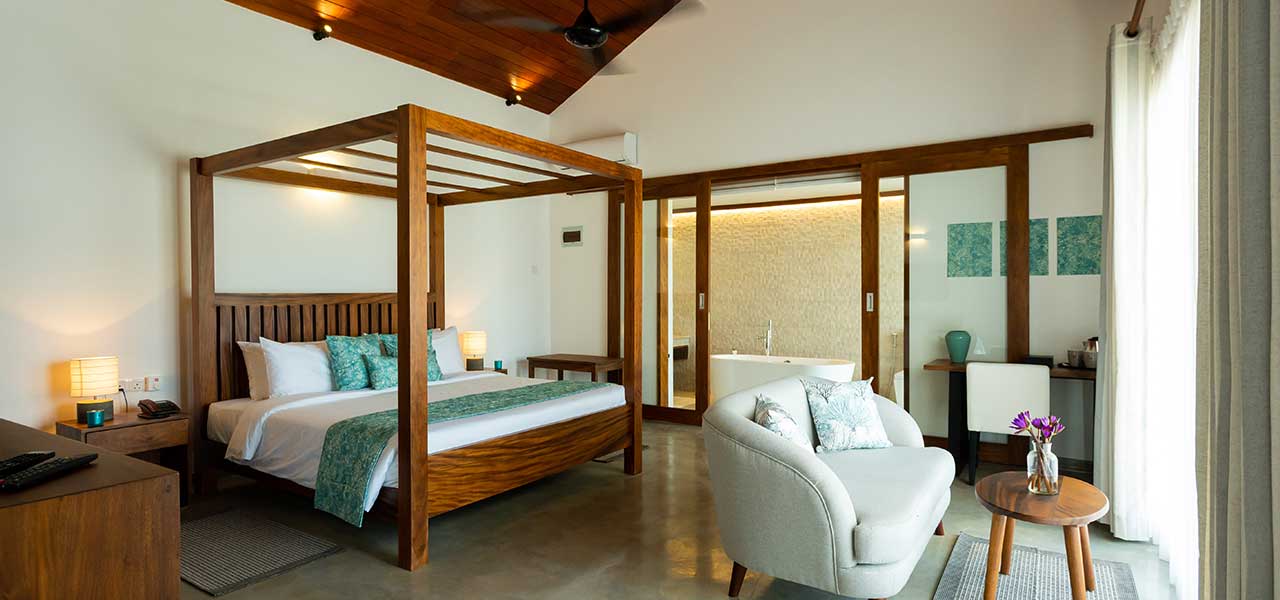 The Villa houses five rooms; Two Superior rooms and one Deluxe suite on the ground floor offering views of the lush green garden and two rooms on the first floor that offer spectacular views of the ocean. All rooms are furnished with a specious double bed, in-room closet, a flat screen tv, free Wi-Fi, a work desk, a one-seater couch and an en-suite shower. Both the first floor rooms come with balconies that allow you to bask in the sun in privacy while enjoying the beautiful view of the ocean. The honeymoon suite comes furnished with a four poster bed, a two-seater couch, an in-room closet and an en-suite bath with a jacuzzi.